FLEECE FPE-CLNTBYPS-CUMMINS-0607 COOLANT BYPASS KIT
Regular price
$376.00
/
---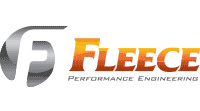 DESCRIPTION
If you're pushing your 2006-2007 Dodge 5.9L Cummins with an automatic transmission past 350 horsepower, you need the Fleece FPE-CLNTBYPS-CUMMINS-0607 Coolant Bypass Kit. When horsepower is increased, the demand for extra cooling is increased, stressing the factory cooling system. The rear cylinders begin to suffer from a lack of coolant flow, and therefore, experience the highest coolant temperatures. This can cause critical pressure levels to build in the system, especially the rear of the block, and possibly blow out freeze plugs externally, or the smaller diameter plugs under the valve cover, leading to a failure.
Fleece has designed their coolant bypass kit with a secondary thermostat which operates based off of temperature. This allows the rear cylinders to receive adequate cooling, solving the issue of excessive pressure buildup before it ever becomes a problem. Included in this complete kit are high quality O-ring fittings, AN hose connections with your choice of braided black nylon or braided stainless steel hose to ensure a leak-free installation.
FEATURES: 
Prevents Critical Cooling System Pressure
Head Removal Not Required For Installation
Includes Secondary Temperature Operated Thermostat
Ensures Consistent Coolant Temperature Across All Cylinders
Available with Braided Black Nylon or Braided Stainless Steel Hose
1 Year Limited Warranty

Note:
For trucks with automatic transmissions only.